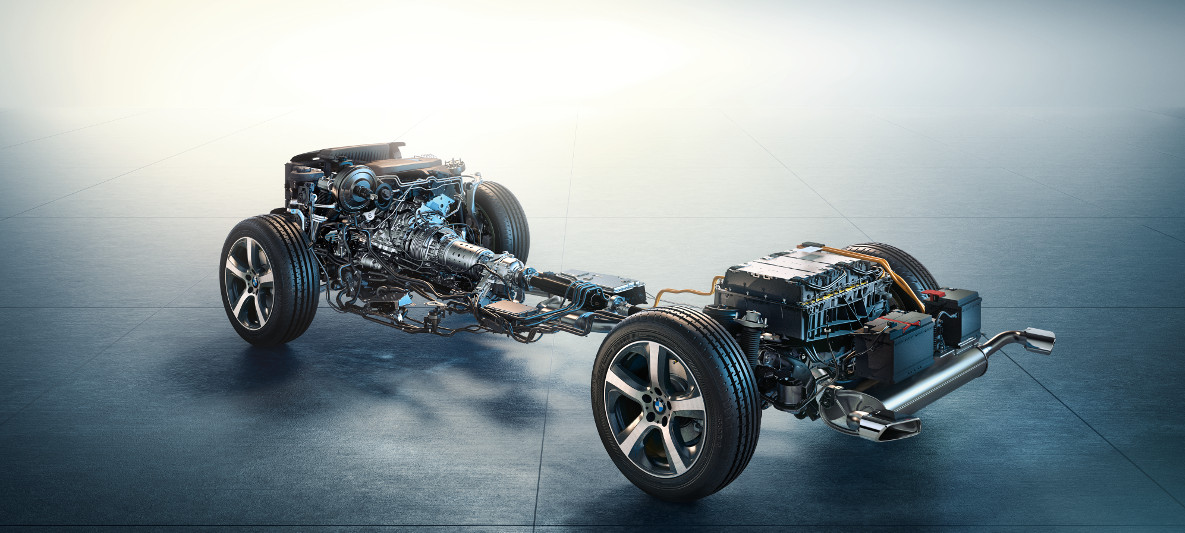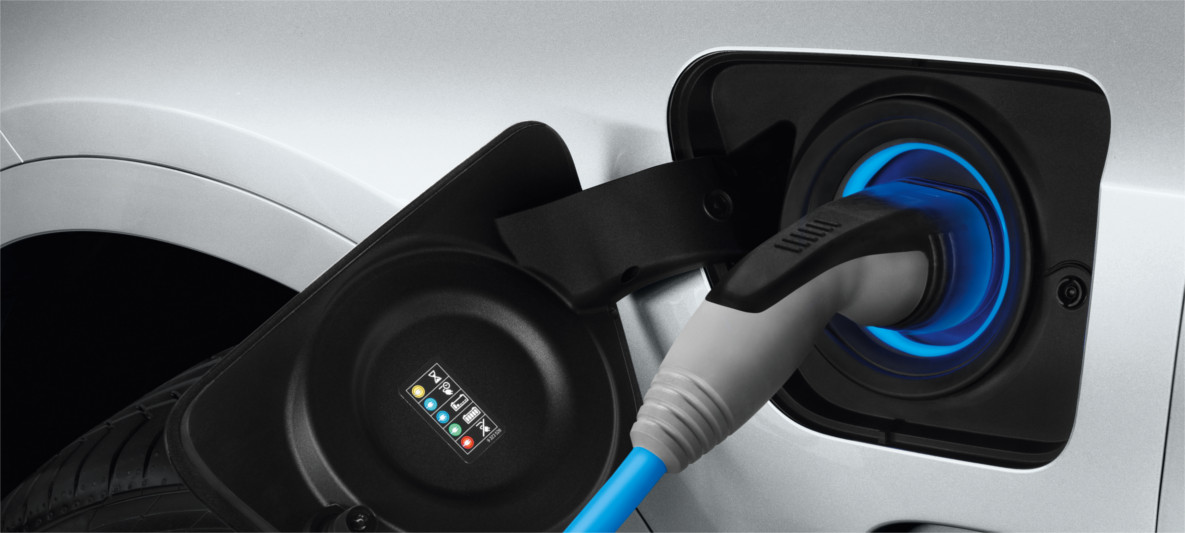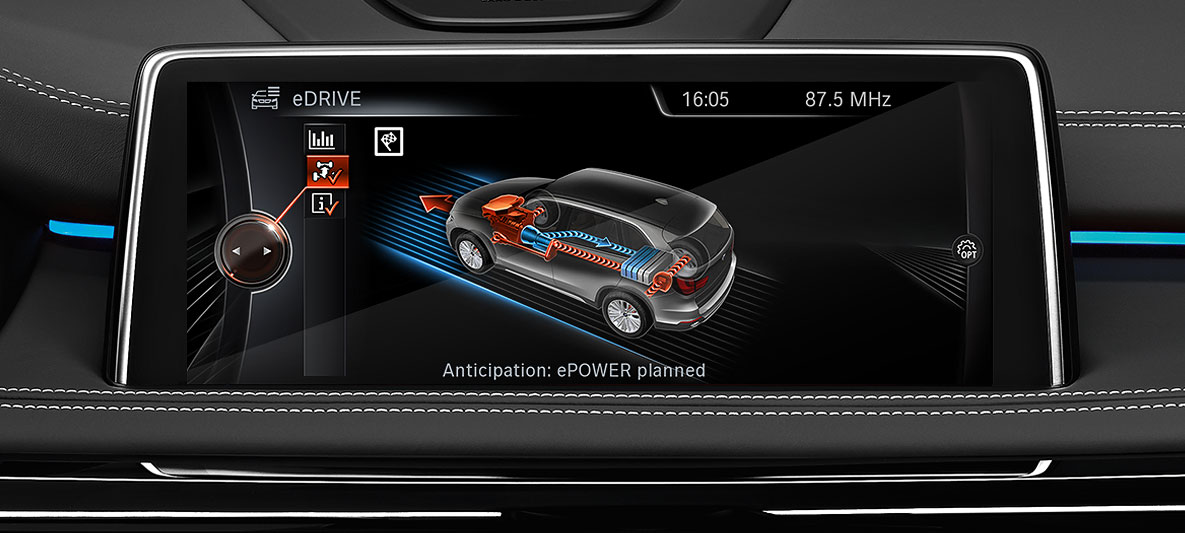 FORWARD-LOOKING MOBILITY THANKS TO BMW eDRIVE.
The drive concept BMW eDrive boasts impressive dynamics. With its combination of electric motor, lithium-ion high-performance battery and intelligent energy management it provides an inspiringly agile driving experience and breathtaking acceleration. And when driven purely electrically, it is locally emission-free.
Electric motor

The electric motor is an innovative development of the BMW Group and an integral constituent of all electrically powered BMW models. With the battery fully charged, it provides the BMW X5 with eDrive, for example, with a maximum range of approximately 30 kilometres in purely electrical driving mode. This means it will be possible to cover most everyday distances without local emissions. Depending on requirements, the electric motor can also be used to achieve particularly powerful short bursts of acceleration – such as when overtaking.

Lithium-ion high-performance battery

All vehicles with BMW eDrive technology obtain their energy for electric driving from a high-tech electricity storage device. The lithium-ion high-performance batteries are combined with a cooling system that constantly keeps the battery at optimum operating temperature, thus increasing output and service life. Recharging is possible wherever electricity is available. Even a conventional 230-volt household socket is sufficient.

Intelligent energy management

Best possible efficiency and performance that's always available – intelligent energy management's core task is to guarantee both of these. It additionally controls further functions from BMW EfficientDynamics that are specially coordinated for drivetrains with a synchronous electric motor.

Intelligent energy management optimises the effectiveness of the electric drivetrain and the high-performance battery with a predictive operating strategy. Navigation data is used to calculate the optimum time to start driving electrically or charging the battery, in advance, depending on the most suitable route and driving situation. This saves up to ten per cent of energy – which allows the driver to cover a greater distance completely electrically.

Brake Energy Regeneration ensures that kinetic energy released when braking or slowing down is saved in the lithium-ion high-performance battery, where it's available at any time to increase the overall performance.

With the ECO PRO mode, a press of a button is all it takes to gear all vehicle systems towards efficiency – and make intelligent use of energy reserves. In order to do this, intelligent energy management reduces the comfort functions according to the driver's needs. In addition, the driver receives tips for particularly efficient driving via the Control Display, to help increase the maximum range.
FORWARD LOOKING MOBILITY.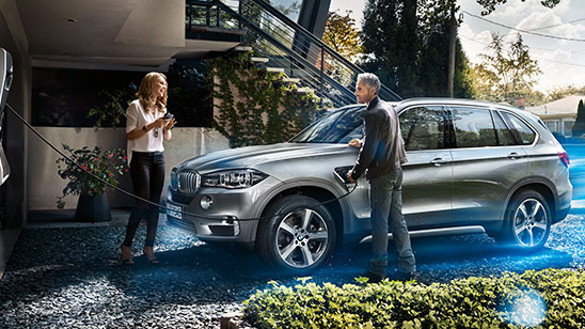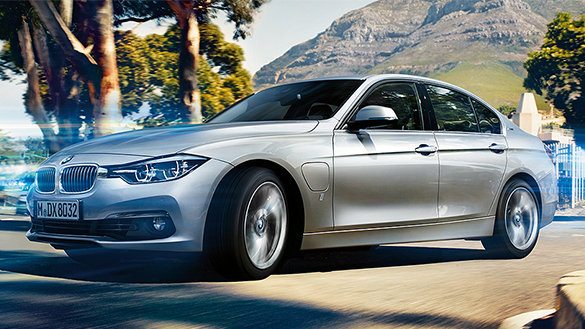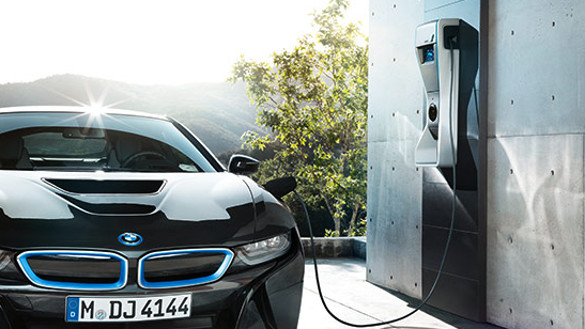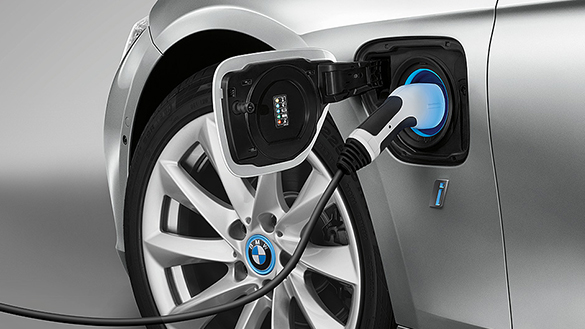 Home charging

Electric vehicles have many advantages over their conventional counterparts – one of them is having a "full tank" every morning. This is because they can be easily and conveniently charged at home with the standard charging cable supplied. The process is even quicker and more convenient with the BMW i "Wallbox": This charging station for installation on your house wall increases the charging output, thus reducing the charging time, and ideally complements the design of BMW vehicles.

Charging on the go with ChargeNow

ChargeNow service, comprising of a ChargeNow card that grants straightforward access to partner charging stations, ChargEV, offered through BMW Group Malaysia's partnership with Malaysian Green Technology Corporation (GreenTech Malaysia). The ChargEV stations are already operational in 227 strategic locations throughout Kuala Lumpur, Selangor, Kedah, Melaka, and Johor.


Charging status

With the apps "BMW i Remote" and "My BMW Remote for plug-in-hybrids", you can conveniently monitor the charging operation in real time via your smartphone. In addition, the electric driving range and battery charging status of your BMW can be also be viewed at any time via the Remote App. Remote control can be used to schedule charging operations via the weekly timer and to activate the climate control in preparation for a journey.

​
Fuel consumption and CO2 emissions.