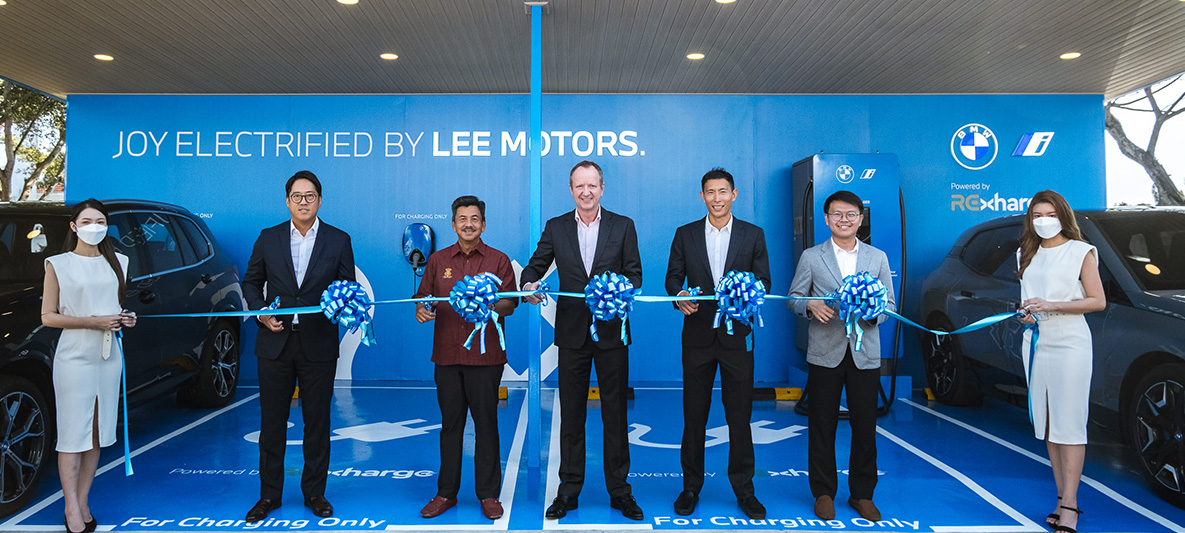 2023.01.16
Lee Motors unveils new BMW i Charging facilities and breaks ground for new showroom in Alor Setar.
In conjunction with the Groundbreaking Ceremony for their latest showroom in Alor Setar, Lee Motors will also further electrify the northern state of Kedah with three new BMW i Charging facilities – inclusive of two DC Fast Chargers and an AC charger, powered by RExharge.
Kuala Lumpur, 16th January 2023 – Lee Motors has broken ground on its new Auto Care showroom in Alor Setar, Kedah, which is set to welcome customers by the first quarter of 2024. The 50,000-square foot facility will offer more than twice the amount of space compared to the previous location and will be designed based on the latest BMW Retail NEXT concept.
Hans de Visser, Managing Director of BMW Group Malaysia said, "In this New Year of 2023, we are thrilled to be welcoming a new Lee Motors' showroom in Alor Setar, as well as an expansion in our network of charging infrastructure to include the latest BMW i Charging facilities offered at the Royal Kedah Club. The new and larger facility being constructed by Lee Motors is also testament to the strong market growth for the premium segment in this region. With that, we are confident that they will be able to deliver the highest level of Premium Ownership Experience for our customers here."
Eugene Lee, Managing Director of Lee Motors said, "As an authorised BMW dealer for 20 years now and the sole dealer representative for the brand in Kedah, we are committed to mastering Sheer Driving Pleasure in the northern region of Malaysia. Driven by a passion to not only introduce new owners to the BMW vehicle of their dreams, we are also looking to create better access to Electrified Mobility here in Kedah. In 2022, we successfully delivered over 270 premium vehicles from the BMW Group portfolio, and we are looking forward to growing our deliveries alongside the expansion of our facility and services here."
The upcoming Lee Motors Auto Care showroom will be able to display up to 16 vehicles comprising of new and premium used cars from the BMW and BMW Premium Selection portfolios. Designed to be equipped with an extensive aftersales facility, the new showroom will also house two delivery bays, eight work bays – with the potential to be expanded to 12 in the future – along with two bays for reception-at-the-car (RATC).
Powered by local charging provider RExharge, the new BMW i Charging facilities at the Royal Kedah Club – presented by Lee Motors and BMW Group Malaysia, are now open for public use and feature an 11kW AC charger as well as two DC Fast Charging facilities with an output of 60kW each. Charging with the DC Fast Charger will cost RM 1.40 per minute, while use of the AC Charger will cost RM 0.15 per minute or RM 9.00 per hour.
The new Lee Motors Auto Care showroom will be located at 218, Jalan Gangsa, Kawasan Perusahaan Mergong II, 05150, Alor Setar, Kedah.
Read more