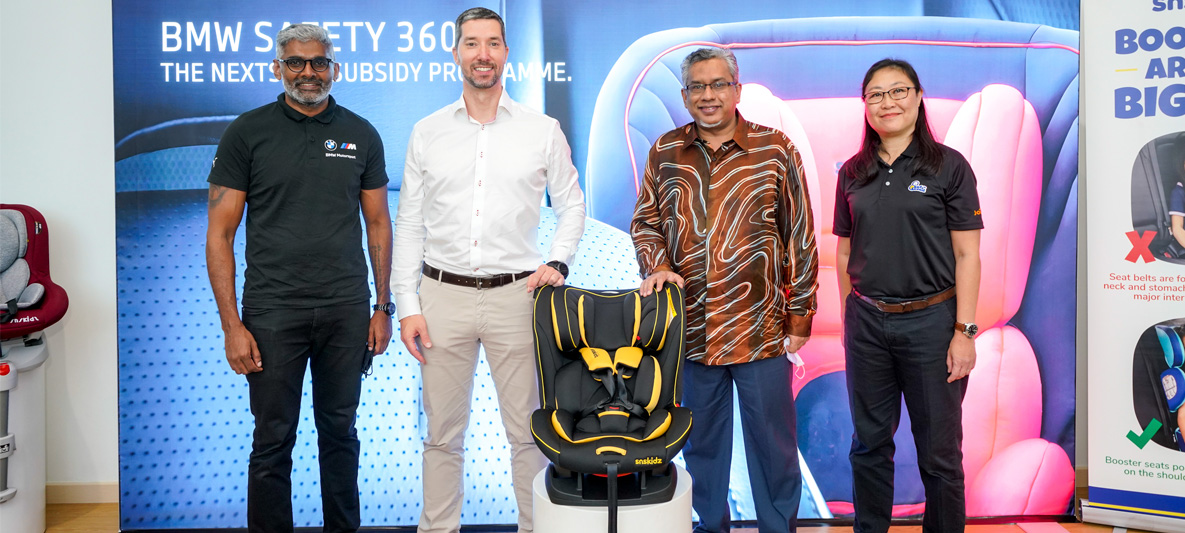 2022.08.08
BMW Group Malaysia and Safe 'n Sound present 90 fully subsidised child car seats to B40 families under NEXTStep Subsidy Programme.
The NEXTStep Subsidy Programme by the premium automaker, in collaboration with Safe 'n Sound, saw fully subsidised child car seats presented to parents in the B40 community in a move to encourage usage of child car seats amongst Malaysians.

Cyberjaya, 8th August 2022 – The NEXTStep Subsidy Programme was introduced in May 2022, as part of the ongoing BMW Safety 360° initiative, which aims to promote road safety for children by making child car seats more accessible to lower income households. A total of 90 child car seats were fully subsidised for families in the B40 community with funds raised by BMW Group Financial Services Malaysia last year.

Hans de Visser, Managing Director of BMW Group Malaysia said, "The overwhelming response we have received for this subsidy programme highlights the crucial need for us to make child car seats more accessible to the public, especially to lower income families. We hope to continue advocating for the uptake of child car seats amongst families in Malaysia, while also raising awareness and encouraging more parents to act independently in ensuring the highest level of safety for their children while on the road."


Matthias Schlesiger, CEO of BMW Group Financial Services Malaysia added, "We are pleased to have been able to support the NEXTStep Subsidy Programme with the funds we raised last year through one of our fundraising initiatives. For every signed contract of a BMW or MINI electrified vehicle (EV), RM100 was contributed to the fundraiser and ultimately channelled to a cause that we hold close to our hearts. In these challenging times, it is our hope to be able to lend a helping hand wherever we can to struggling families, especially new parents, so the safety of their children are secured from day one."


May Hwong, Managing Director of SNS Products Sdn Bhd said, "It is required for every occupant in the vehicle to use a seat belt, but we must remember that it is important that children below 12 years old use a suitable car seat as they may not be tall enough for a seat belt. Their safety should be every parents' highest priority and we hope this subsidy programme can make it easier for them to ensure that."


Expecting parents and families with children weighing up to 36kg, and with a monthly household income below RM 3,500, were eligible to apply for a fully subsidised child car seat under the NEXTStep Subsidy Programme. Over 900 registrations were received throughout the application period, affirming the need for greater accessibility to child car seats amongst lower income families.


The NEXTStep Subsidy Programme concluded with a special handover event organised in collaboration with Safe 'n Sound to present the fully subsidised child car seats to selected parents in the Klang Valley. The event served to provide the recipients with knowledge on how to install and use their new child car seats effectively. A live demonstration was conducted by a team of Child Occupant Safety Instructors (COSI) from Safe 'n Sound. A total of 12 child car seats were presented during the event, with the remainder delivered to parents that resided within and outside of the Klang Valley.


The fully subsidised child car seats provided to families, as part of the NEXTStep Subsidy Programme, include models such as the snskidz Ace (infant carrier) snskidz sport (convertible seat), snskidz Whizz (ISOFIX seat), snskidz Proto (combination booster seat) and Mifold (booster seat), which would normally retail at RM 199, RM279, RM 499, RM 399, and RM199 respectively.


BMW Group Malaysia initiated the first subsidy programme as part of the BMW Safety 360° initiative in 2019 to an overwhelming response of over 25,000 applicants. To date, more than 400 families have received subsidised child car seats, including recipients of the NEXTStep Subsidy Programme.

Read more
The BMW Group
With its four brands BMW, MINI, Rolls-Royce and BMW Motorrad, the BMW Group is the world's leading premium manufacturer of automobiles and motorcycles and also provides premium financial and mobility services. The BMW Group production network comprises over 30 production sites worldwide; the company has a global sales network in more than 140 countries.
In 2021, the BMW Group sold over 2.5 million passenger vehicles and more than 194,000 motorcycles worldwide. The profit before tax in the financial year 2021 was € 16.1 billion on revenues amounting to € 111.2 billion. As of 31 December 2021, the BMW Group had a workforce of 118,909 employees.
The success of the BMW Group has always been based on long-term thinking and responsible action. The company set the course for the future at an early stage and consistently makes sustainability and efficient resource management central to its strategic direction, from the supply chain through production to the end of the use phase of all products.
Read more
About BMW Malaysia Sdn Bhd
BMW Group Malaysia is the representative of Bayerische Motoren Werke (BMW) AG in Malaysia with activities that cover the wholesale of BMW, MINI and BMW Motorrad vehicles, spare parts and accessories as well as the overall planning of sales, marketing, after-sales, and other related activities in Malaysia. The organisation's presence in the country includes its National Sales Centre (NSC) in Cyberjaya and BMW Assembly Facilities at the Kulim Hi-Tech Park, Kedah which supports the Malaysian region as well as the BMW Group Data Centre (GDC), BMW Group Regional Training Centre (RTC) in Cyberjaya and BMW Group Parts Distribution Centre (PDC) at the Free Industrial Zone of the Senai International Airport in Senai, Johor which supports 22 markets in the Asia-Pacific region. BMW dealership network covers 39 outlets in various cities in Malaysia.
Read more
About SNS Products Sdn Bhd

Established in 2002, SNS Products Sdn Bhd is a home-grown company that is driven by the principles of promoting child safety awareness to ensure that all children are safe and well-protected in and out of the home. SNS Products Sdn Bhd is the Malaysian sole distributor for Joie, snskidz, mifold and Axkid, with a product line up to cater for all price ranges to suit different needs and situations. The company takes pride in advocating child occupant safety and strives to promote the safety message to all concerned parties including parents, caregivers, health care providers and retailers. Being committed to child occupant safety, SNS Products Sdn Bhd provides advice on child safety seats, conducts talks and training workshops, organises free car seat checks as well as offers a car seat rental programme. To learn more, visit https://www.safensound.com.my/
Read more