BMW Maps makes driving in your BMW even more personal and convenient. Connected Navigation offers you completely intuitive operation when programming destinations. The cloud-based dynamic route calculation instantly adapts the route recommendations to changing traffic situations and excels with a precise forecast of the arrival time.
Read more
BMW MAPS: CONNECTED NAVIGATION.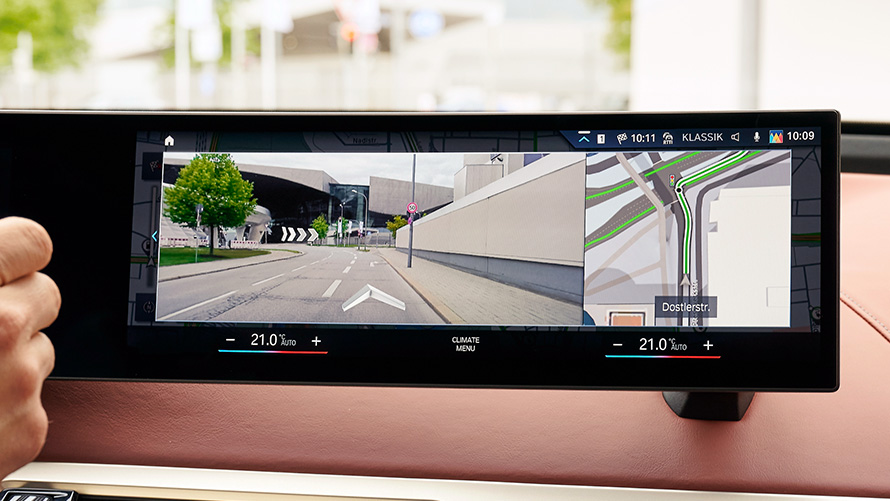 Intuitive operation as you are familiar with on your smartphone

Destination entry via free search possible

Cloud-based dynamic route calculation

Fast recalculation of the route when traffic conditions change

Exact calculation of the predicted arrival time

Map data with Map Update always up to date

Hazard warning for adverse road conditions or accidents on the route

Proactive destination suggestions based on learned routes - especially useful for commuters

Adaptive theme-based maps show exactly what you need at any given moment

Augmented View in the central control display for junctions and corners
FAQ: THE MOST IMPORTANT QUESTIONS AND ANSWERS ABOUT BMW MAPS.
What is BMW Maps?

What are the requirements for using BMW Maps?

What advantages does the service Real Time Traffic Information from BMW Maps offer me?

How can I update BMW Maps?

Where do I enter "country", "city" and "street" to search for a destination?

Which benefits does Learning Navigation from BMW Maps offer me in my vehicle with BMW iDrive and Operating System 8?
BMW CONNECTED DRIVE: FURTHER INFORMATION & LINKS.