THE LATEST BMW 7 SERIES.
For many decades, BMW has been the number one choice in the luxury sedan class. You don't have to compromise on sportiness, driving dynamics, luxury or comfort – these are the fundamental elements that make the BMW 7 series unique. Outstanding driving experience, exclusive materials and stylish design characterize this high-end vehicle.
BMW 7 SERIES OVERVIEW.
No matter what the occasion, the BMW 7 series makes a brilliant entrance. Its sublime presence and self-confident character reflect the tradition, experience and perfection expected in the luxury segment. The vehicle's exceptional drive and technological superiority show how new, higher standards in performance, comfort and dynamics can be achieved again and again.
Read more
5 CHARACTERISTICS OF THE BMW 7 SERIES.
01

Supreme, confident appearance

02

No compromises in comfort and luxury

03

Exceptional performance in every respect

04

Cutting-edge vehicle technology

05

An excellent connection to all services thanks to BMW ConnectedDrive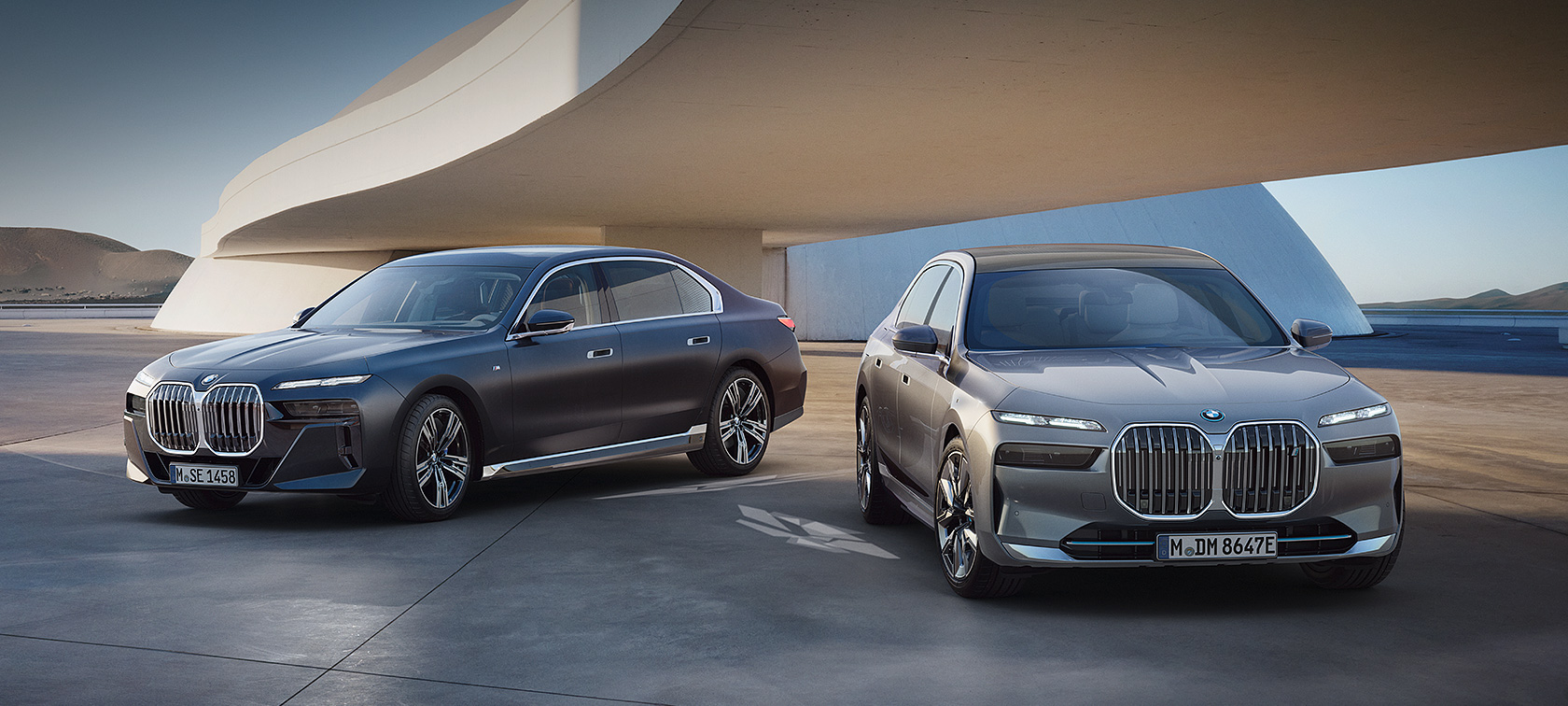 A BRIEF HISTORY OF THE BMW 7 SERIES.
​
FUEL CONSUMPTION AND CO2 EMISSIONS.
BMW 7 Series Sedan:
Fuel consumption in l/100 km (combined): 11.1–1.8
CO2 emissions in g/km (combined): 252–41
Electricity consumption in kWh/100 km (combined): 20.1–17.9
Electric Range in km: 44–55

BMW i7 Sedan:
Electricity consumption in kWh/100 km (combined): 19.6–18.4
Electric Range in km: 591-625

Official figures for fuel consumption, CO2 emissions, electricity consumption and electric range were determined in accordance with the prescribed measurement procedure and comply with Regulation (EU) 715/2007 as amended. WLTP figures take into account any optional equipment in the case of ranges. For vehicles newly type-approved since 01.01.2021, the official specifications exist only according to WLTP. Further information on the NEDC and WLTP measurement methods can be found at www.bmw.de/wltp.