CHARGE UP ON PEACE OF MIND.
Discover the High Voltage Battery Warranty to drive with electrifying confidence.
At the heart of every BMW electric vehicle is advanced battery technology that helps deliver pure electric driving pleasure. For complete peace of mind, our High Voltage Battery Warranty ensures your BMW remains perfectly powered up for many drives ahead.
Read more
SERVICE PACKAGE BASIC VS PLUS COMPARISON.
| High Voltage Battery Component | BMW BEV Warranty for HVB (8 years / 160,000km) | BMW Repair Inclusive |
| --- | --- | --- |
| Cell module, high-voltage batteries | ✓ | |
| Cell supervision circuits | ✓ | |
| Safety box and holder | ✓ | |
| Battery management electronics (SME/BMU) | ✓ | |
| Cell module connectors | ✓ | |
| HV accumulator, ground cables | ✓ | |
| HV accumulator, positive cables | ✓ | |
| Radiator of HV battery | ✓ | |
| HV battery housing & cover | ✓ | |
| Module bracing | ✓ | |
| Other small HV components ie. screws, nuts, bolts, gaskets, sealing rings, repair kits, etc. (as required as per repair instructions) | ✓ | |
| Refrigerant gas (as required via SUB04) | ✓ | |
| Electrical machine electronics (EME) | | ✓ |
Read more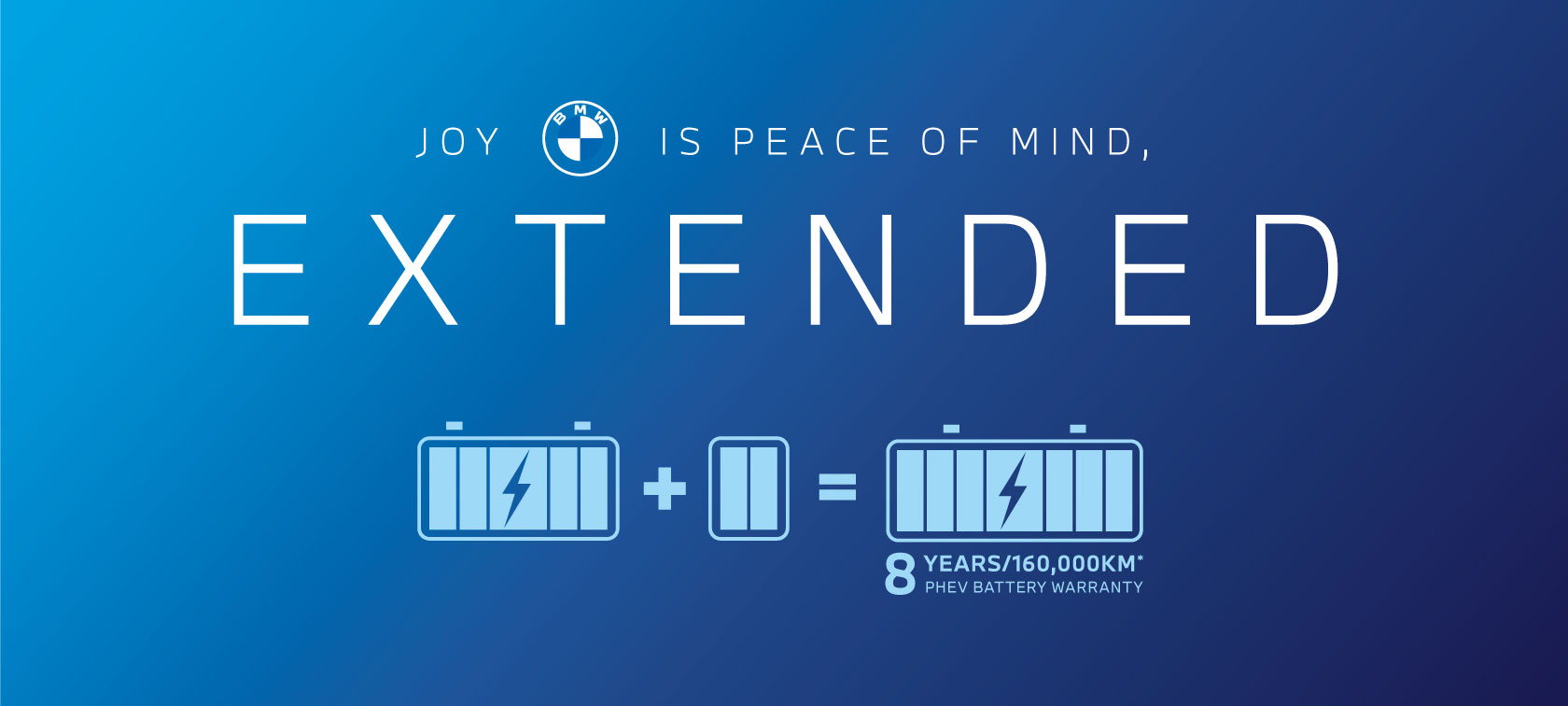 CHARGE AHEAD WITH ADDED PEACE OF MIND.
NOW WITH 6 YEARS + 2 YEARS PLUG-IN HYBRID (PHEV) EXTENDED WARRANTY PROGRAMME.
Power up for more driving pleasure with BMW Malaysia's Plug-in Hybrid (PHEV) battery warranty extension programme. It covers the battery and its units for an additional 2 years and 60,000km, increasing the coverage to a total of 8 years / 160,000km (whichever comes first).

The package is applicable to all BMW Group PHEV models at time of first registration by BMW Malaysia authorised dealers from 1 January 2023 to 31 December 2023.
THE COVERAGE:
The BMW Group global warranty policy applies to this programme.
Extended warranty can be redeemed as of the 73rd month / 100,001km till the 96th month / 160,000km of ownership.
If the vehicle is sold, the entitlement of the extended warranty is transferred to the next purchaser as long as the package remains valid.
Read more
This PHEV battery extension programme is also available as an Aftersales upgrade package for the following models.
Models
Price

BMW 330e M Sport (F30)

BMW X5 xDrive40e (F15)

BMW 530e M Sport (G30)

BMW 530e Sport (G30)

RM2,200
BMW 740Le xDrive (G12)

RM7,600
Read more
FREQUENTLY ASKED QUESTIONS
What is a plug-in hybrid vehicle (PHEV)?

How does a plug-in hybrid vehicle work?

What is the (electric) range of a plug-in hybrid vehicle?

How is a plug-in hybrid vehicle charged?

Can a plug-in hybrid vehicle be charged during its journey?

How do the ranges differ between plug-in hybrid vehicles and electric cars?

Do I have to select petrol or electric mode?

Will a plug-in hybrid save me money?
PREREQUISITE FOR CLAIMS:

The vehicle has been driven correctly and maintenance must be performed at a BMW Authorised Dealership in accordance with the manufacturer's specifications.

This shall not be treated as a preventive replacement warranty policy. Only confirmed faulty modules will be replaced as per BMW diagnostic protocol, technical findings, etc.
The vehicle must be regularly charged to ensure the hybrid batteries are fully functional in order to provide driving pleasure to the customer.
Read more