FUNCTIONALITY.
Loads of room and room to load: Transporting heavy or bulky objects is no problem in the BMW X5 – thanks to a variety of practical and space-saving features.
Both on the inside and on the outside, the BMW X5 is extremely versatile. For example, with the dual-section tailgate: The upper tailgate swings up high and allows smaller, lighter objects to be conveniently stowed and removed. The lower tailgate creates a platform flush with the load compartment floor when open, allowing luggage to be set down before being loaded.
Versatility is just as prominent in the spacious interior, too. The rear seats can be folded down in a ratio of 40:20:40, ensuring that the space available can be maximised for passengers and luggage alike.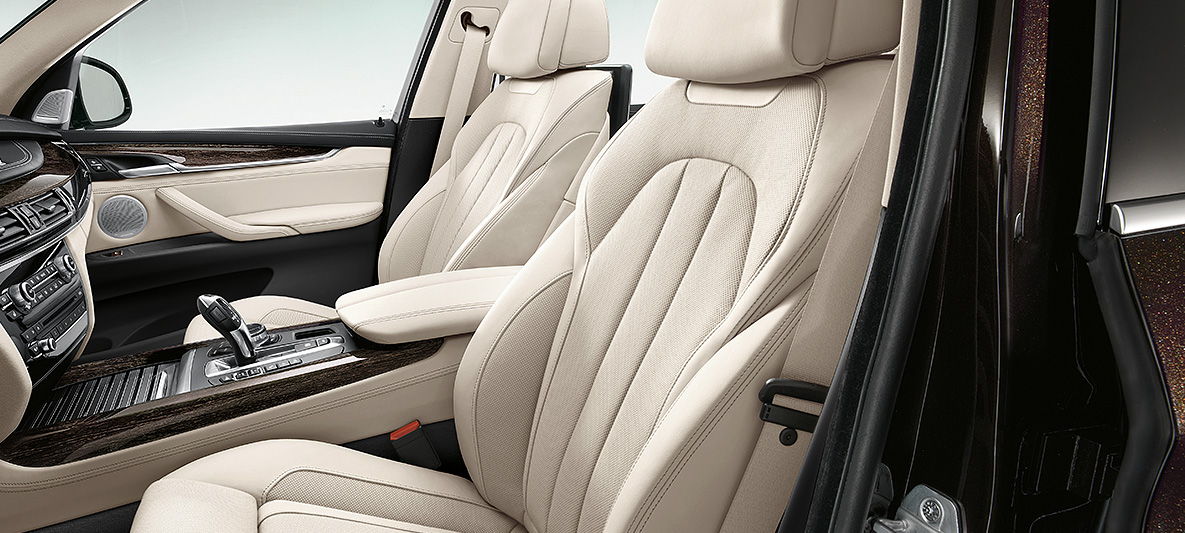 SEATS.
Regardless of where you sit in the BMW X5, you'll always be in the premium seats – thanks to the elevated seating position at the front and the seemingly unlimited flexibility at the rear.
The rear seats can be folded down in 40:20:40 split, in accordance with how many luggage items need to be transported. Luggage space can be extended up to a generous 1,870 litres.
REAR-SEAT ENTERTAINMENT PROFESSIONAL.
REAR-SEAT ENTERTAINMENT PROFESSIONAL.
The very best entertainment.
In the rear seats of the BMW X5, the very best entertainment is guaranteed, however long the journey – with the aid of the rear-seat entertainment system.
This equipment comprises two separate 9.2" colour screens (tilt-adjustable) and a DVD drive. Depending on the equipment fitted, passengers can remote-control functions for radio, DVD changer, navigation (independent of the driver) and – with ConnectedDrive – the internet. Connections are available for MP3 players and games consoles. And, to prevent the driver being distracted by noises at the rear, it is also possible to connect wireless headphones.

BMW SERVICE INCLUSIVE.
BMW SERVICE INCLUSIVE.
BMW Service Inclusive is the first step towards unlimited driving pleasure. It is a service package covering all essential service and maintenance work.
BMW Service Inclusive covers all regular service and maintenance work for a specified period or mileage − and it's valid worldwide. This includes: Engine oil service including top-up quantities (requirement: regular engine oil service at an authorised BMW service dealership), microfilter, fuel filter, air filter and spark plug service, change of brake fluid, automobile check and other services as per service record.