| | |
| --- | --- |
| Acceleration 0-100 km/h in s (BMW i3s2) | |
| Maximum speed fully electric in km/h (BMW i3s2) | |
| CO2 emission in g/km, combined (BMW i3s2) | |
| Electricity consumption in kWh/100 km (BMW i3s2) | |
| Daily use electric range in km (BMW i3s2) | |
VISIONARY FROM EVERY PERSPECTIVE.
The BMW i3s does not follow any trend; it's an expression of a self-conscious lifestyle. Designed in a progressive form language that communicates clarity and an interior lounge character. Equipped with an effortlessness that thrills you through sustainable materials and functional details. A vehicle that sets trends with its individuality.

Read more
VISIONARY FROM EVERY PERSPECTIVE.
THE ORIGIN OF ELECTRIFYING DRIVING PLEASURE.
From the chassis to the passenger cell – the intelligent combination of driving and lightwheight components enables the unparalleled dynamics of the BMW i3s. Thanks to the fully-electric drive train BMW eDrive, the BMW i3s accelerates from 0 to 100 km/h in 6.9 seconds. The electric engine of the BMW i3s with a performance of 184 hp and a torque of 270 Nm provides emission-free driving pleasure for up to 260 km. The Life module describes the modern passenger cell made of carbon fibre reinforced plastic (CFRP). Also often referred to as carbon, this material is not just particularly light but also stronger and more resilient than steel. The low weight and low-lying centre of gravity boost both agility and range.

Read more
LOWER CENTRE OF GRAVITY. WITH ALUMINIUM.
LIGHTWEIGHT. WITH CARBON.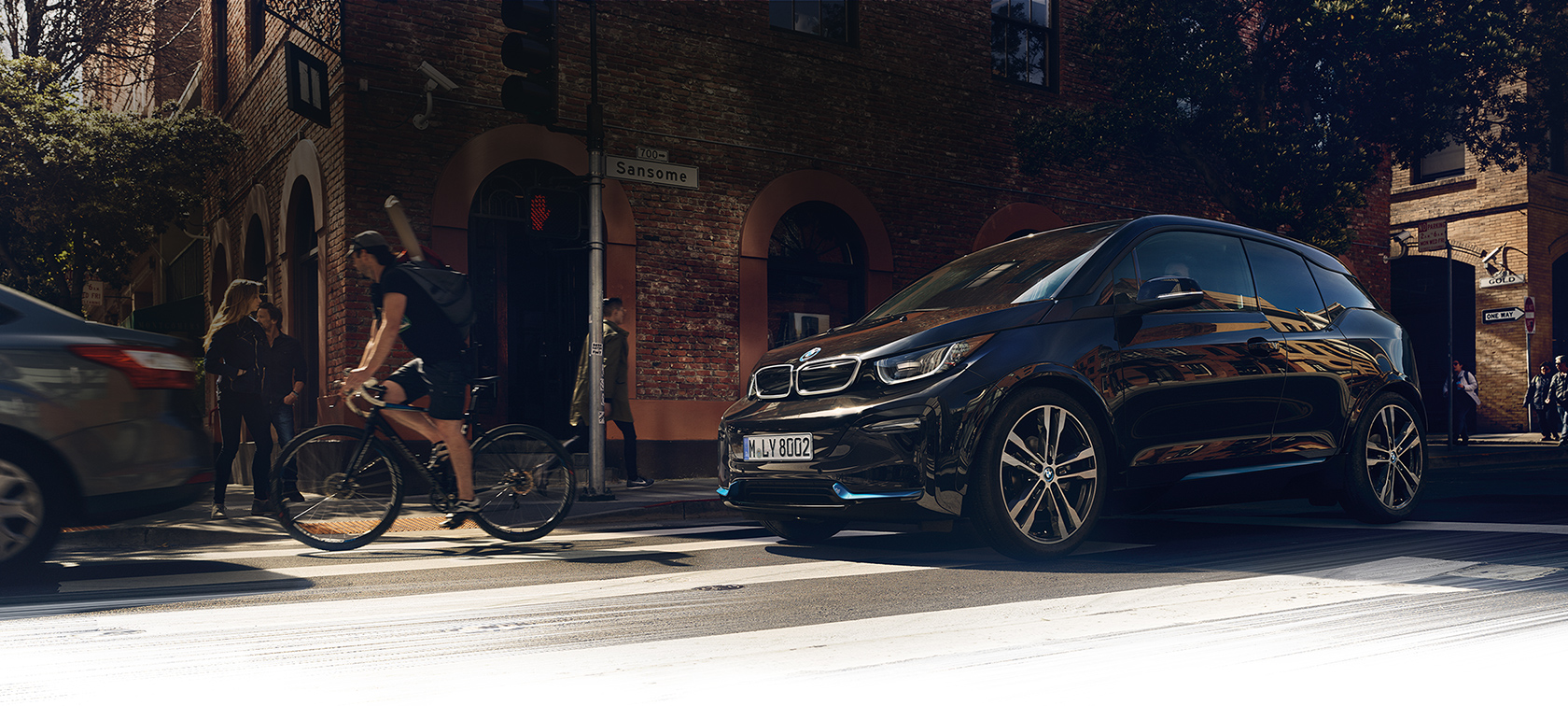 LIGHTNING-FAST. AND CHARGED WITH EMOTION.
If sporty and emission-free driving means the future, then the BMW i3s arrived there a long time ago. And takes off right away. With an impressive 3.4 seconds to go from 0 to 60 km/h, a typical one-pedal feeling, and its progressive design, it unleashes the dynamics of a sports car. Emotions under electric current are experienced with every metre.
Read more
LIGHTNING-FAST. AND CHARGED WITH EMOTION.
The new BMW i3s.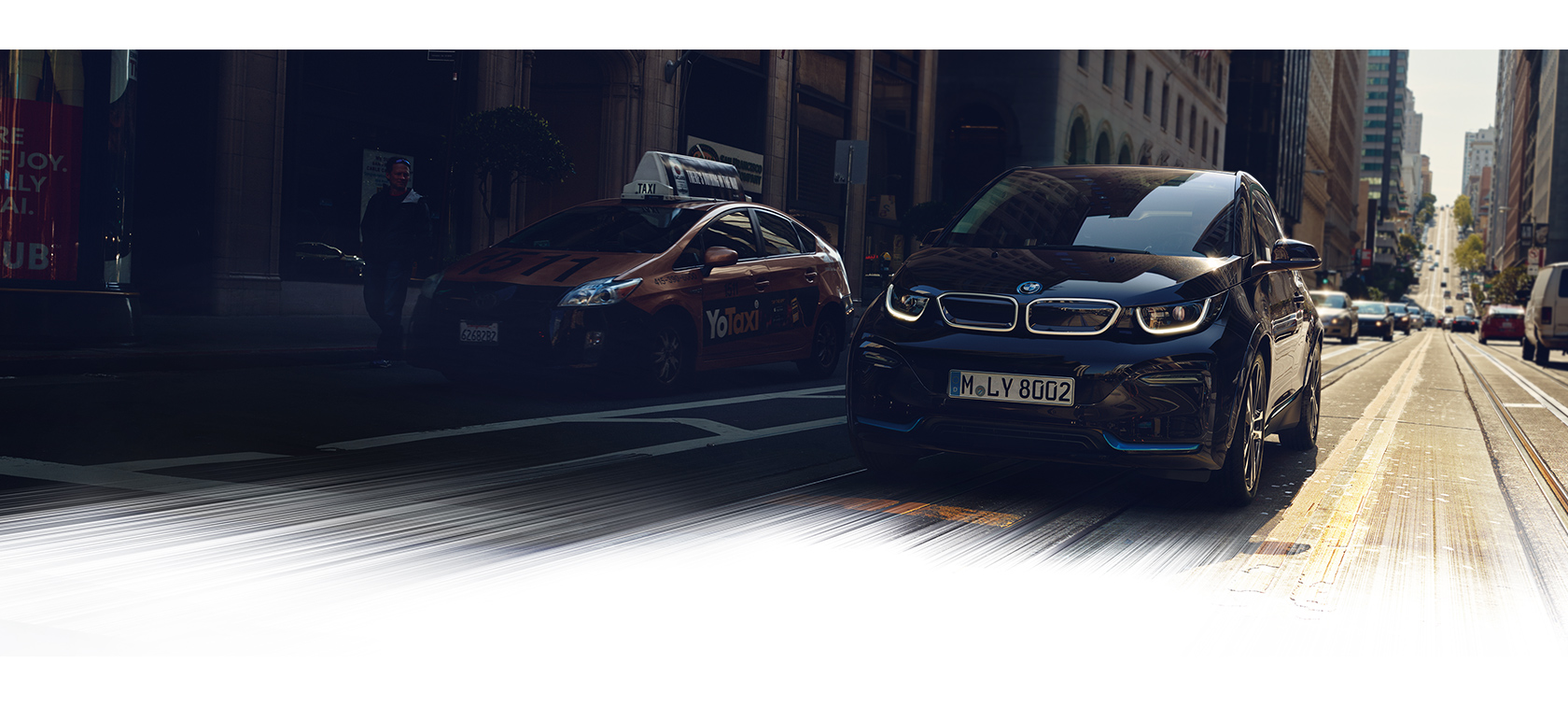 SHORTCUT SPORTINESS.
Wider: the front spoiler, including high-gloss bumper covering. More sporty: black wheel wells and exclusive 20" light alloy wheels with a new rim design. More characteristic: the rear, with sharpened contours and 40 millimetre-wide track. Even more fast-paced and emotional: driving in the BMW i3s.
Read more
6.9 SECONDS
From 0 to 100: the BMW i3s manages it in just 6.9 seconds. And opens up completely in just the first few metres. Thanks to the engine's maximum torque of 270 Nm and 184 hp (135 kW) of power. Thrillingly agile and powerful up to a maximum speed of 160 km/h.
Maximally sporty, maximally electrifying: The BMW i3s combines excellent driving dynamics with the most modern technology. The new-designed Automatic Stability Control (ASC) works more quickly and provides more traction and stability while acceleration and braking. The optimized Dynamic Traction Control (DCT) is even available in turns and up to a speed of 100 km/h and more. More sporty driving dynamics offers the SPORT driving mode. If the driver steps on the accelerator, then the BMW i3s will react more quickly and more directly if the battery charge is sufficient. Furthermore, the sport steering with a correspondingly adapted steering torque and the sport suspension, lowered by ten millimetres, increase agility.
Read more
FULLY AWARE OF ITS STRENGTHS.
SPORTY AT THE PUSH OF A BUTTON.
DRIVER COMFORT: WITH SAFETY.
TRANSMITS POWER. INSTANTLY.
FIND OUT MORE ABOUT THE BMW i3s.
​
Fuel consumption and CO2 emissions.
Power consumption and CO2 emissions for the BMW i3s (2):
Fuel consumption in l/100 km (combined): 0
CO2 emissions in g/km (combined): 0
Power consumption in kWh/100 km: 14.6–14.0
Electric range in km (combined): 330–345
Customer-oriented electric range in km: up to 260*

The values of fuel consumptions, CO2 emissions and energy consumptions shown were determined according to the European Regulation (EC) 715/2007 in the version applicable at the time of type approval. The figures refer to a vehicle with basic configuration in Germany and the range shown considers optional equipment and the different size of wheels and tires available on the selected model.

The values of the vehicles labeled with (2), are preliminary.

The values of the vehicles are already based on the new WLTP regulation and are translated back into NEDC-equivalent values in order to ensure the comparison between the vehicles. [With respect to these vehicles, for vehicle related taxes or other duties based (at least inter alia) on CO2-emissions the CO2 values may differ to the values stated here.]

The CO2 efficiency specifications are determined according to Directive 1999/94/EC and the European Regulation in its current version applicable. The values shown are based on the fuel consumption, CO2 values and energy consumptions according to the NEDC cycle for the classification.

For further information about the official fuel consumption and the specific CO2 emission of new passenger cars can be taken out of the "handbook of fuel consumption, the CO2 emission and power consumption of new passenger cars", which is available at all selling points and at https://www.dat.de/angebote/verlagsprodukte/leitfaden-kraftstoffverbrauch.html.

All technical data are indicative only and varies as per market and configuration. For more information, please check with your local dealer for all fuel consumption and CO2 emissions.

*Values shown are according to the NEDC (New European Driving Cycle) classification.

*Values may not reflect real life driving results, which will depend upon a number of factors including the starting charge of the battery, accessories fitted (post-registration), variations in weather, driving styles and vehicle load.